7 million users of Open Banking in January 2023. Do ecommerce businesses take advantage of this method of payments?
by Gosia Furmanik on February 08, 2023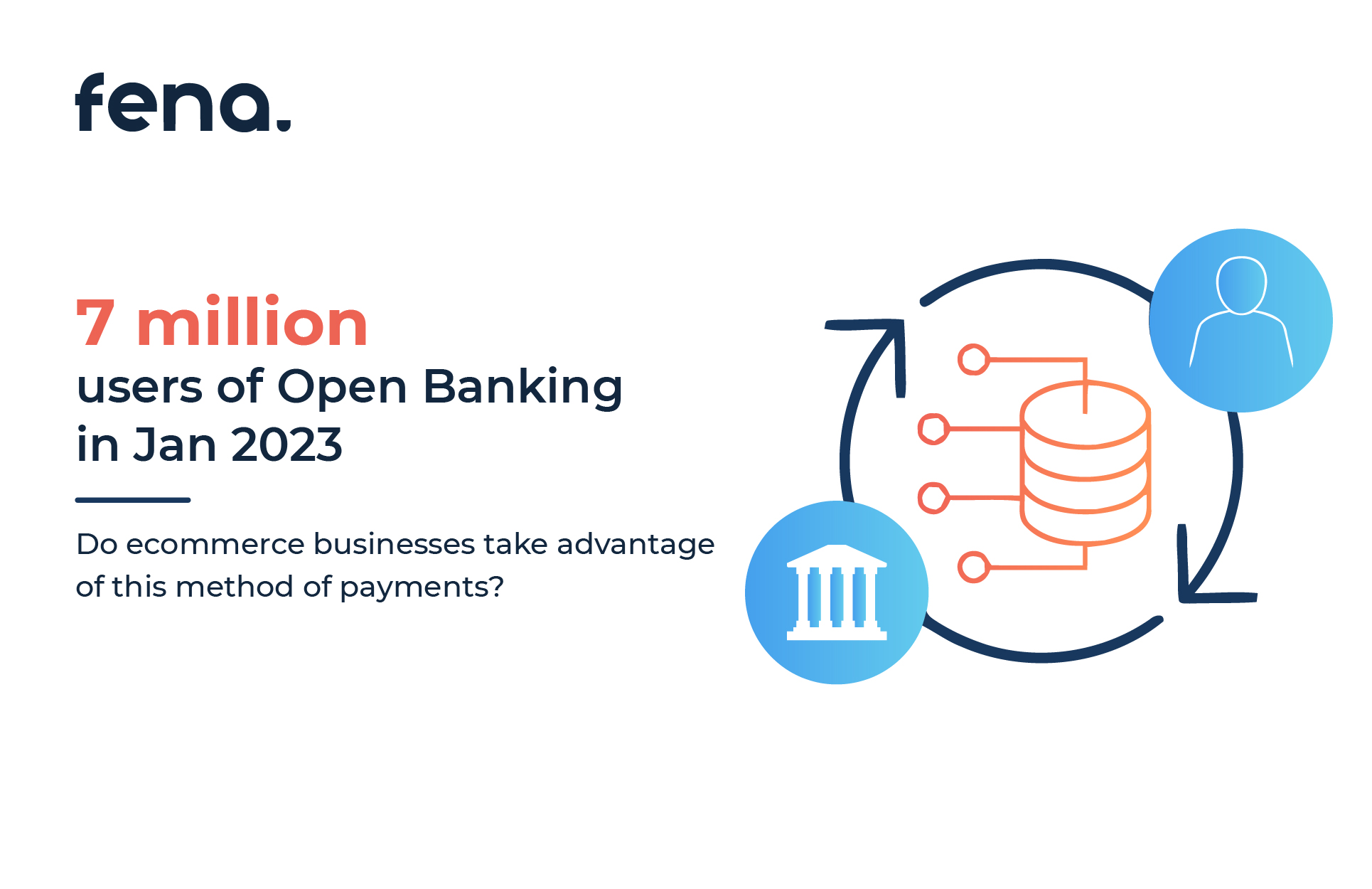 Open Banking is a rapidly growing technology in the United Kingdom that allows individuals and businesses to securely share their financial data with third-party service providers, such as payment processors and other fintech companies. As of January 2023, there are reportedly over 7 million active users of Open Banking in the UK, indicating a growing trend towards the adoption of this technology. For small and medium-sized ecommerce businesses in the UK, Open Banking presents an opportunity to improve payment processing and increase customer satisfaction. In this article, we will discuss the benefits of Open Banking for ecommerce businesses and how they can take advantage of this technology.

Open Banking and Ecommerce
The rise of ecommerce has made online shopping a staple for consumers around the world. In the UK, ecommerce sales have steadily grown over the past few years, with an estimated 30% of retail sales now taking place online. However, the payment process has remained a pain point for many ecommerce businesses, with traditional payment methods such as credit cards often taking several days to process and charge high fees.
Open Banking offers a solution to this problem by enabling direct bank-to-bank payments, reducing payment processing times and fees. By leveraging Open Banking, ecommerce businesses can improve their payment processing and increase customer satisfaction.
Benefits of Open Banking for Ecommerce Businesses
There are several benefits to using Open Banking for payment processing in ecommerce businesses. These include:
Faster payment processing times: With Open Banking, payments can be processed within seconds, as the funds are transferred directly between banks. This means that businesses can receive payment more quickly, improving cash flow and reducing the risk of fraud or chargebacks.

Lower transaction fees: Unlike traditional payment methods such as credit cards, Open Banking payments charge transaction fees to the. This means that ecommerce businesses can save money on processing fees, improving their profit margins.

Increased security: Open Banking uses secure APIs (application programming interfaces) to ensure that customer data is protected and that payments are made securely. This can help to reduce the risk of fraud and protect businesses from financial loss.

Improved customer experience: Open Banking can provide a seamless payment experience for customers, allowing them to make payments quickly and easily without having to enter payment details or navigate multiple payment pages. This helps to improve customer satisfaction and encourages repeat business.
How Ecommerce Businesses Can Take Advantage of Open Banking
To take advantage of Open Banking for payment processing, ecommerce businesses need to integrate with a payment provider that supports Open Banking. Fena is one of such providers (we are a pure play Open Banking which means we provide Open Banking payment alongside your existing card payment processor). Fena is integrated with popular ecommerce platforms such as WooCommerce, Shopify, and Magento via plug-ins, making it easy for businesses to start using Open Banking for payment processing.
Once a payment processor has been selected, ecommerce businesses can start accepting Open Banking payments by adding the payment option to their checkout page. This can be done by adding a button or link that directs customers to the payment privider's Open Banking payment page. The payment provider will hand over the payment processing to the bank that will execute the transaction. This ensures that the payment is made securely and that the funds are transferred to the business's bank account.
Conclusion
Open Banking presents a significant opportunity for ecommerce businesses in the UK to improve their payment processing and increase customer satisfaction. By leveraging the benefits of Open Banking, ecommerce businesses can reduce payment processing times, lower transaction fees, increase security, and improve the customer experience. To take advantage of Open Banking, ecommerce businesses need to integrate with a payment provider that supports Open Banking and add the payment option to their checkout page. As Open Banking continues to grow in popularity, ecommerce businesses that adopt this technology will be better positioned to compete and succeed in the digital economy