Over the Phone Payments & Open Banking Solutions
by Gosia Furmanik on May 26, 2022
Over the phone payments are more common than you'd think. Many businesses still take payments over the phone. 
With the current set up of over the phone payments (where the card is not present), the cost and speed of  payment processing leaves lots to desire. Since PSD2 has been implemented, open banking presents a viable and affordable alternative. 
To learn how open banking can help with over the phone payments, we recommend checking out the guide below. 
What are over the phone payments? 
As you might know, over the phone payments are simply card payments where the card is not present. A person processing a payment requests a 16-digit card number from the payer. This card number is inputted in the physical card terminal or via an online system. An agent taking a payment might also ask for details like CVC, expiry date or post code where the card is registered.  This is extremely sensitive information that one might be wary of sharing over the phone. Due to the sensitive nature of shared information, this method is extremely fraud-prone. Therefore, the transactions incur high processing fees and have a higher chance of being disputed in a chargeback claim. 
Despite all the shortcomings, it's still extremely common to take payments over the phone in the sectors like travel, leisure, catalogue sales or pre-orders. This, however, might be shaken up by Open Banking payments that come with Strong Authentication as a standard. Plus, a payer won't share any personal banking or card details with anyone. All is done securely via banking-level APIs. 
Since the PSD2 got passed, third-party financial companies can create applications that allow businesses to request payments via links or QR codes and get paid directly to their bank account, bypassing traditional card payments rails. 
One prominent solution available from open banking is link payments, which we'll discuss more below. 
How can payment links help with this transaction? 
Payment links are a new way to perform over the phone payment effortlessly. As you might expect, it's a unique URL with payment instructions passed to your clients to complete the payment on their banking app or online banking.  Therefore, all you need to do is copy and paste to your email or messaging app and send it over to your client.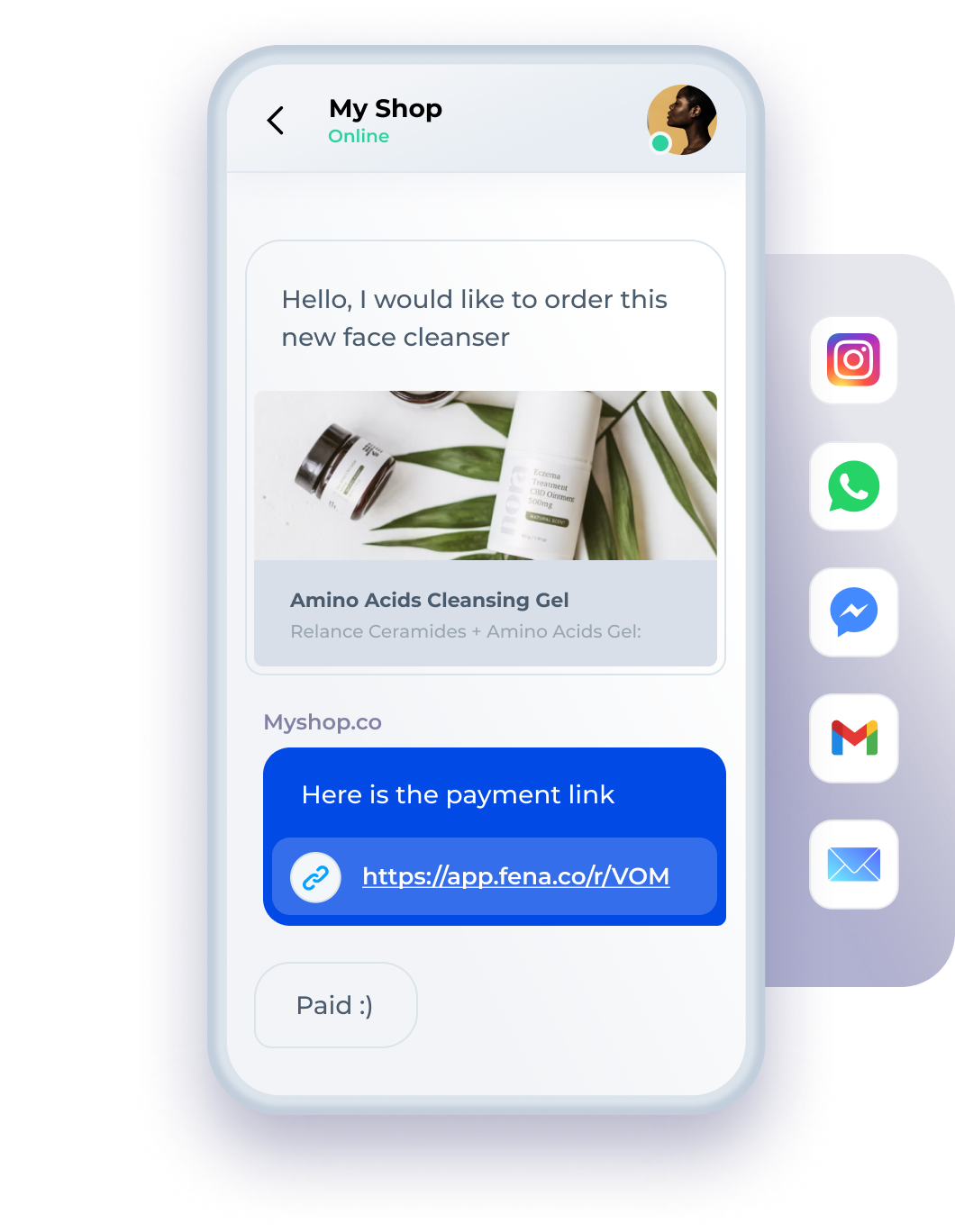 For better visualisation, here's how you'd send a payment link using our application Fena; 
First, you'd head over to Fena and log in.

Once here, go over to the payment link section and copy your unique URL. 

Afterwards, send this to a client over a messaging application. 

Wait until the payment has gone through; you can track this through our dashboard 
From a customer's perspective, they're required to click on the link, choose their bank, login securely to their banking app with biometrics and then just approve the payment. Using our solution doesn't need payees to download anything; this can all get solved through a URL. 
The incredible thing about payment links is they can be used anywhere, making them universal. For instance, it's possible to use our payment links on Facebook Messenger, WhatsApp, Instagram, text messages, email, or anywhere that allows URL links. 
Is over the phone payments cheaper with open banking?
PSD2 and the creation of open banking have changed the way we perform payment transactions. In addition to it being much faster, you'll be surprised to find it's also much cheaper. Open banking currently has some of the lowest fees in the financial industry. 
According to Small Business Prices, here are the transaction prices of significant players within the industry; 
Although these were once seen as "good", times have changed. With open banking, both monthly and per-transaction fees have dropped dramatically. 
With our application Fena, we offer remarkably affordable payments. The monthly cost is £0, and the per-transaction fee is 0.3%, far below any of the providers above. 
For better visualisation, 2.5% of £100,000 is £2,500. Whereas 0.3% of £100,000 is £300. If you're making payments throughout the year equaling this amount or more, you can save a substantial amount on fees. 
Because of this, open banking is a win-win for everybody. You get easier over the phone payment access while saving a large sum of money per transaction. However, the benefits don't stop there. 
Why do you need to use open banking for over the phone payments 
There are many reasons why you should use open banking for over the phone payments. Without question, the primary reason people consider this is the low transaction fees, but there's much more that it offers. 
So, why else should you start using open banking for this payment method? 
Instant settlement – With instant settlements, money arrives into your account  almost instantly (roughly ten seconds). Including this improves cash flow and allows you access to funds 24/7, 365. 

Ease of access for clients – When using an open banking solution for over the phone payments, like payment links, clients have ease of accessibility. With a link, they'll get redirected to their banking app to easily and securely authorise the payment. 

Immediate payment confirmation – Using our apps, you'll get immediate payment confirmation when somebody has paid. This way, you don't need to check your account continuously.
The benefits offered by open banking, especially when compared to its low processing fees, provide a compelling proposition. It outweighs the price massively for what's offered, making it perfect for all businesses. 
For this reason, many businesses have flocked to open banking solutions over traditional methods offered by large financial institutions and traditional payments providers. They're far too slow, cost a substantial amount, and don't offer a consumer-friendly experience, something open banking provides. 
Conclusion 
After reading the above, you should have a detailed understanding of over the phone payments. In the post, we've mentioned how to implement this within your business and why you should. 
Open banking is for anyone requesting any kind of payment over the phone. Whether it's for business or personal usage, anyone using it can receive a more cost-effective payment option with better user experience. 
The post showcases what open banking can offer. To receive these benefits today, check out our application Fena.